Kinesiology: Sports Medicine Preparation (AA)
The Santa Rosa Junior College Kinesiology: Sports Medicine Preparation Associate of Arts degree provides students with the opportunity to meet the requirements for transfer to various allied health and kinesiology majors. The major is intended for students who are pursuing academic programs and/or careers in fields of kinesiology or medicine such as:
Athletic Training
Physical Therapy
Physician Assistant
Strength & Conditioning
Physical Education
Occupational Therapy
Adapted Physical Education
Chiropractic
**Students are advised to meet with a counselor for appropriate campus specific course requirements before selecting courses.
What does this program offer you?
Hands-on supervised experience working with all types of athletes at SRJC.
Being in this program offers you the chance to become part of a cohort of students to build teamwork skills, communication, and fun times!
Observation hours that count towards a CAATE accredited Bachelor's or Master's Program in Athletic Training or Physical Therapy Programs.
Interpersonal experience in the medical field, getting exposed to various avenues of medicine.
Lower division courses that broaden knowledge for any student interested in the medical field, specifically athletic training.
STUDENT SUCCESS FLOW CHART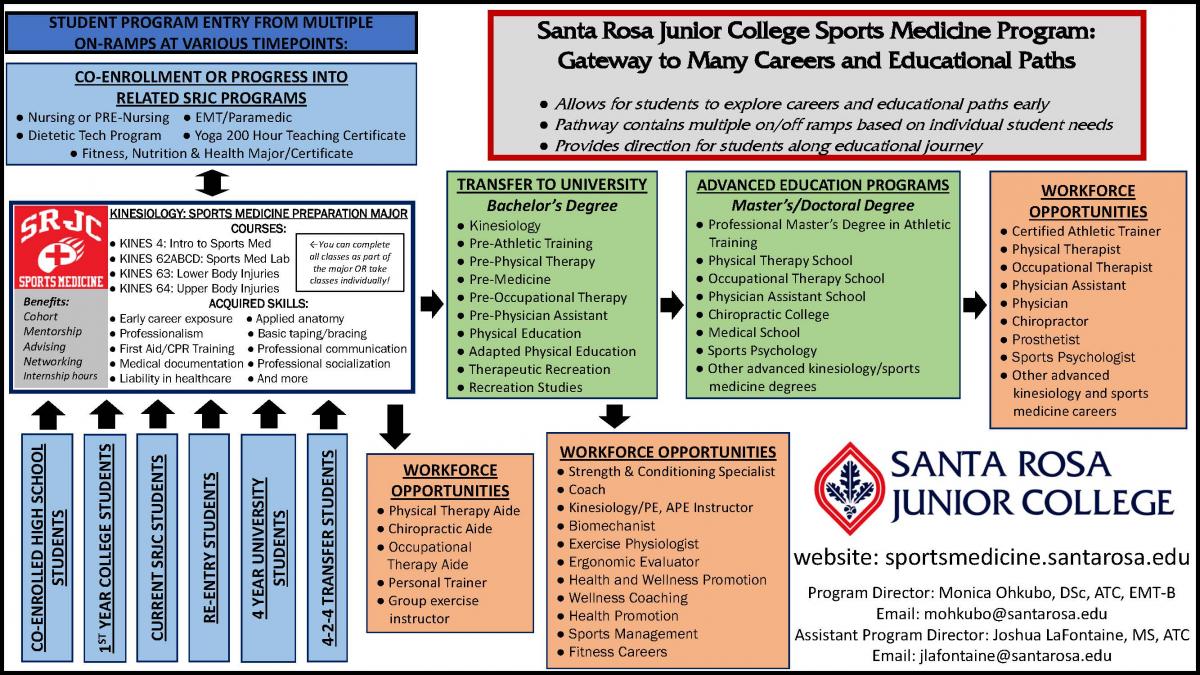 Click here to view the official Major Requirements
TOTAL UNITS REQUIRED: 32
Kinesiology Courses
Course Name
Course Description
Unit Amount

KINES 62 A

Sports Medicine Experience (1st semester)

Requirements/information:

Required 6 hours per week arranged with you and the instructor.
Internship in the Athletic Training Clinic working with student-athletes (facility is open 12-6pm school days).
Pre/corequisite is KINES 4

If you think you have the preparation and skills necessary to take this class without KINES 4, speak with the instructor.

2.0 Units

KINES 62 B

Sports Medicine Experience (2nd semester)

Requirements/information:

Required 6 hours per week arranged with you and the instructor.
Internship in the Athletic Training facility working with student-athletes (facility is open 12-6pm school days).
Pre/corequisite is KINES 62 A

2.0 Units

KINES 4

Care & Prevention of Athletic Injuries

Requirements/information:

Introduction to athletic training and the care and prevention of athletic injuries.
Usually taught on the Santa Rosa campus in the Fall, T/TH mornings.
Usually taught on the Petaluma campus in the Spring, T/TH mornings.

3.0 Units

KINES 63

Sports Medicine: Lower Body Injuries

Requirements/information:

Learn all about lower body injuries from basic anatomy, evaluation, treatment and rehabilitation exercises!
Usually Monday nights 4-6pm lecture with 6-9pm lab in the Athletic Training Clinic.
​Very interactive class.
​Fall semester only.

Class time is great for interested high school students!

3.0 Units

KINES 64

Sports Medicine: Upper Body Injuries

Requirements/information:

Learn all about upper body injuries from basic anatomy, evaluation, treatment and rehabilitation exercises!
Usually Monday nights 4-6pm lecture and 6-9pm lab in the Athletic Training Clinic.
​Very interactive class.
​Spring semester only.

Class time is great for interested high school students!

3.0 Units
Other Core Classes
Course Name
Course Description
Unit Amount

BIO 10

Introduction to Principles of Biology

4.0 Units

ANAT 1

General Human Anatomy

5.0 Units

PHYSIO 1

Human Physiology

5.0 Units

(complete a combination totaling at least 5 units)

CHEM 60,

CHEM 3A,

CHEM 3AL

General, Organic and Biological Chemistry (CHEM 60)

CLICK  HERE TO VIEW CHEM 60 COURSE OUTLINE

__________________________________________________________

General Chemistry (CHEM 3A)

CLICK  HERE TO VIEW CHEM 3A COURSE OUTLINE

__________________________________________________________

General Chemistry (CHEM 3AL)

5.0 Units

LIR 10

Introduction to Information Literacy

1.0 Units
Santa Rosa Junior College Sports Medicine Program: